Imagine that you're eight years old. Your days revolve around nothing more than waking up, eating a bowl (or two) of cereal, and playing video games. You have video game characters on your notebooks, folders, bed sheets, and pajamas – you love video games. Got it? Now imagine that all of the video games in the world have somehow been erased from existence, save one: Planet Minigolf. Your schedule now has two items written in pencil: Cereal and Planet Minigolf. Now, and this is important, imagine an eraser and remove anything from your schedule that doesn't say "cereal".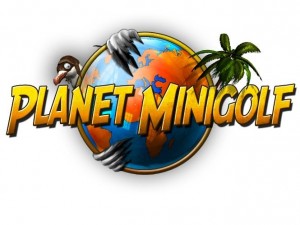 The demo for Planet Minigolf promises all sorts of good things for the full version of the game like "over 100 challenging courses",  "create your own mini-golfcourse", and something revolving around the word "fun". The demo itself only lets you do two things, customize one of around six goofy pre-made characters and play a pirate-themed 9 holes of frustrating putt putt golf. There are three different control schemes, one is actually called "easy": push X, hold it until the swing meter reaches the desired point, and release. There is another "3 point" control scheme: Push X once to start the swing, again at the top of your swing, and a third time to actually connect with the ball. The third control scheme has you use the left thumbstick to pull back and push forward, mimicking some sort of a faux swing. I chose "easy".
I was pretty much through with this game by the fourth hole, and not because I was losing, either. I manged to get 7 over par (not good) by the third hole and was only in second place. Once I got the hang of the swing meter, Planet Minigolf became an exercise in repetitive annoyance and frustration as inevitably some crab or seagull or something would wander into the path of the ball and interrupt my shot. I suppose I'd rather play this game as opposed to playing nine holes of actual golf, but that's not saying much. I'd rather do a lot of horrendously tedious tasks before putting myself through that kind of torture. So if you wake up one morning and find yourself to be the above mentioned eight year old, get out the milk because you're going to be eating a lot of cereal.