If you are anything like me you love playing games. Whether they be video games or board games or even the dreaded out doors sports games, it doesn't matter, games are fun and we all love playing them.  There has been a trend over the past few years where companies seem to be getting confused at what they are making.  One of the latest in a long line is Super Mario Yahtzee.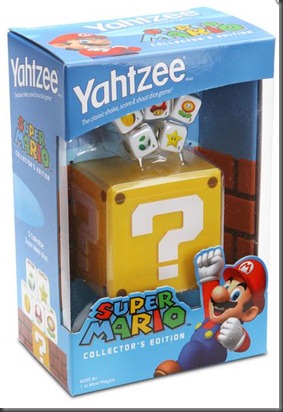 What does the world of Mario have to do with Yahtzee? Nothing.  Do we want this, you bet.  I'm not sure who the marketing genius was that figured out that if you put Nintendo characters on anything people will buy it even if they already have the same thing without the Nintendo characters, but give him a medal.  The game is exactly the same as the Yahtzee you know and love except that the dice feature pictures of the different power ups and comes with a snazzy question block to roll the dice with.  For $19.99 it would be a great addition to any geeks gaming collection so go on  over to thinkgeek and check it out. 
3 Comments
I may have actually seen this at Barnes & Noble recently. I know they have some Mario stuff and some character Yahtzee games.

Comment by bibliophile81 — July 20, 2010 @ 7:28 pm

don't they also have donkey kong jenga?

Comment by Cameron — July 21, 2010 @ 12:31 am

Yes, they do. I ended up there last night and they have both Mario Yahtzee and Donkey Kong Jenga.

Comment by bibliophile81 — July 21, 2010 @ 5:18 pm
RSS feed for comments on this post.
Sorry, the comment form is closed at this time.