Some people who may appreciate the sport of hunting but do not find real live hunting very exciting or convenient can't really get into games like Deer Hunter. Fortunately, our plane of existence is blessed with the game developer called Capcom. Capcom took hunting and made it a much more exciting experience. Their special ingredient was monsters and their successful outcome was Monster Hunter.
The demo of Monster Hunter 3 Tri for the Wii was not my first bite of the Monster Hunter franchise. My first bite was a tiny little nibble when I played my friend's Monster Hunter game on his PSP for about a minute or so. I knew then that the games were awesome, but I did not own a PSP, nor did I buy one knowing that Monster Hunter 3 Tri was being developed for the Wii. When I first noticed that preorders were available, I reserved my copy of the game and received my free demo disc.
First thing I noticed was that the manual was a fold out poster with descriptions of the controls for each type of weapon you can have. The descriptions only cover the Wii Remote and Nunchuk control scheme, but the bottom of the instructional fold-out poster said something about viewing complete instructions including other control schemes at their website. I'm assuming that the classic controller is one of those schemes since the game has had numerous advertisements as having a bundle with the classic controller.
Finally, on to the game itself. It isn't a whole lot different from the ones for the PSP. It consists of one central town with many vendors and many different environments you can go to in order to hunt down monsters. Besides the hunting there is also an extensive amounts of ways to upgrade your weapons using items you carve from the corpses of the monsters you slay and/or items you find from foraging and mining. A big difference from the PSP games is the underwater combat. This allows players to hunt monsters that dwell underwater, making a whole new way to fight. Of course, one can assume that there will be all new items, weapons, monsters, etc. that were never seen in the PSP version.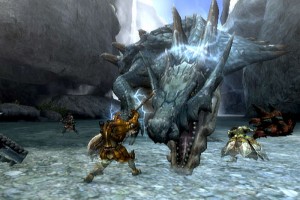 Who doesn't like killing monsters then using their bones to upgrade weapons and armor and then using that equipment to kill more monsters? If you're interested, pre-order and get a demo, or wait till April 20th and just buy it. Either way, take a seat, grab your ridiculously huge sword and go slay some monsters!