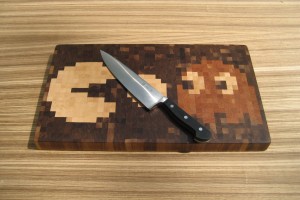 Hilarious or strangely disturbing? I think it might put me off my dinner taking a knife to Pac-Man's face. On the other hand, what am I saying?
From the Etsy item description:
NOMNOMNOMNOMNOMNOMNOMNOM! It's the sound of PacMan chomping away at those little pellets – how could I not be inspired to make a cutting board out of him?

Geek out your kitchen with this end-grain cutting board featuring PacMan and either Blinky or Clyde (he's kind of orangey-red) racing toward a power-up pellet. Who will get there first?!? Help PacMan by buying this board right away and chopping onions all over Blinky's face!

This hand-made end-grain cutting board will add a touch of gamer-nostalgia to any kitchen. The board is made of walnut, hard-maple, and cherry put together with FDA approved, water-proof glue, and treated with a mixture of mineral oil and beeswax.

End-grain cutting boards like this one are very durable and will not dull your knife edges like some other types of cutting boards might. Also, while some people worry that wooden cutting boards are not as safe from bacteria as glass or plastic, there have been studies done that actually show that wooden boards have antibacterial properties (seriously…ask The Internets). I don't know if those studies are 100% accurate, but I do know that people have been using wooden cutting boards a lot longer than plastic, and have not all died of food-borne illness, so I figure it's probably ok (though I won't hold it against you if you decided to cut poultry on a separate board).

I'll include a set of care instructions with any cutting board that I sell.

This board is approximately 18 X 12 X 1.5″
This is the opposite of a discount game!
$165 at 1337motif's Etsy shop!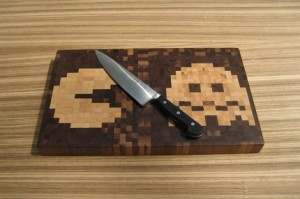 No Comments
No comments yet.
RSS feed for comments on this post.
Sorry, the comment form is closed at this time.